Radio 1 has held many campaigns, such as Aids Awareness, Contraception,
Job Seeking and Drink Driving.
It all began in 1980 with Action Special, and by 1991 there were six campaigns throughout the year ranging from money, drugs, smoking, school options, safer sex and jobs.
Short bursts of information, usually based on actuality of young people's own experience, accompany details of how to get more information, either by phone or through literature. The last Action Special Campaign received 12,000 calls, with each caller being given individual counselling, while Moneyfax '91 distributed over 1 million advise booklets.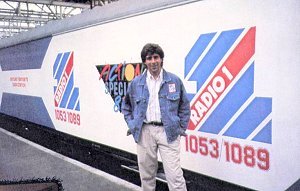 Gary Davies and the 'Action Special' Job Search Train 1988
The series aim was to provide positive help in job or further
education search for sixteen year olds.
Concerts were relayed live on Radio 1 (usually on a Saturday evening)
including Many acts such as Level 42 and Madness, INXS, Pet Shop Boys, Madonna.
Other outside broadcasts (besides the Roadshows Radio 1 Club Weeks Out and Fun Days included Discovatin' on Saturday nights with Al Matthews, Simon Bates in the USA, Kid Jensen on the North Sea, Greenbelt 79, Live Aid and the Royal 'its a Knockout.'
Right - Janice Long interviews Tony Hadley from Spandau Ballet during the concert.
Anti Drink-Drive Trailer with John Peel 1984
Charity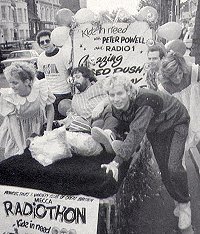 Encouraging listeners and DJs alike to raise money for charities in many ways included this 1985 sponsored bed push across London for the Variety Club. Geoff Capes is in bed. The two audio clips are from an overnight 14 hour link-up show which was broadcast through the night. Radio 1 was responsible for raising thousands of pounds for the young, disabled or disadvantaged. Other fund raisers included football matches, discos, film premieres, the Marathon Music Quiz, International Youth Year at Thorpe Park and Live Aid. Generous donations from the public resulted in enough money to open a Childrens' Ward at Kings College Hospital London, buying of Sunshine Coaches, and providing outward bound holidays for all sorts of young people.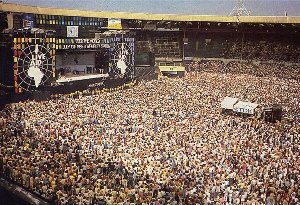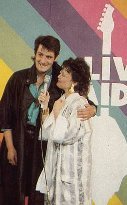 Live aid at Wembley Stadium 13.07.85. the whole event was broadcast live on Radio 1.
During the late 80's, the BBC held meetings with senior BBC executives, D.J.'s and the public in the 'It's your BBC' meetings.
BBC Public Meeting in Chippingham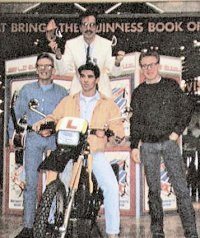 Steve Wright with Eddie Kidd & the Proclaimers1988
getting into the Record Books producing a record in record time!
In 1990 Radio 1 relayed the massive Knebworth concert. New bands were also featured such as Live at the Marquee, Band Explosion, Hit the Write Note and Norwich: Sound City.
Nelson Mandela Birthday Concert (1988)
Tommy Vance tells you to 'Play Safe'
'In Concert' with the 'HouseMartins & Buddy Curtess
Teddy Bear's Picnic Outside Broadcast Chatsworth House May 2nd 1988.
The event saw Mark Goodier's first meeting with a Roadshow audience.
Disco Shows from Aberdeen (1986 )
Simon Mayo in Jerusalem (1987)
Al Matthews at Wigan Casino with Hi Tension (1984)
DLT says 'Don't Have One for the Road' (1986)
Greatest Under 18's night (1995)
Music Live '95 Bank Holiday Special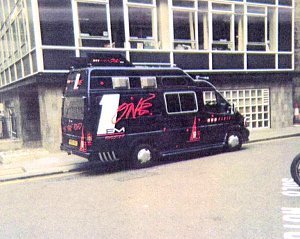 Radio 1 Roadster outside Egton House
31 days in May promotion (1990)
See Also Weeks Out page