Born in Devon in 1941 and starting his radio career in 1961 at Radio Hong Kong, ex - Radio London DJ Ed ''Stewpot'' Stewart was one of the original team of presenters on Radio 1. Initially presenting the short lived Happening Sunday and also the What's New record review show.
Junior Choice
He then fronted the popular weekend Junior Choice programme from February 1968 for twelve years (which included the famous hello darling sound bite). Although a Radio 1 show, it was also heard on Radio 2 until 1978, benefiting from the higher sound quality of the VHF network
The show originally included many popular sing alongs such as My Brother by Terry Scott, Nellie the Elephant by Mandy Miller, You're a Pink Toothbrush by Max Bygraves and Jake the peg by Rolf Harris. Pop records, which had always been featured in the show, became more frequently heard and requested in later years. The programme attracted 17 million listeners at its peak.
Other Shows
He launched the weekly Sunday Sport show in April 1972 which ran for a couple of years and regularly fronted the Radio 1 Roadshow around the coast from its 1973 launch. In September of that year, he was the first presenter heard on the stations' weekday news magazine show Newsbeat. Also well remembered is his presenting of the Crackerjack children's programme on British television.
In 1980 Ed moved to Radio 2, presenting the highly popular cross-country dedication show Family Favourites. Hosting of Junior Choice was handed over to Tony Blackburn. Ed moved to Surrey's Radio Mercury from 1984 to 1990.
He has associations with many charities, including The British Heart Foundation and BBC's Children in Need.
London's Calling
In 1991 Ed was heard again on Radio 2, firstly with a Saturday afternoon show, and from 1992 to 1999, weekday afternoons. In 1995, the show made radio history when it was broadcast live from the summits of Ben Nevis and then Snowdon.
In 1999, Ed left the weekday afternoon slot, moving to an early Sunday evening show from 5pm - 7pm taking over the slot from Pam Ayres. His show included a blend of music requests, chat, listeners' letters and a 'where are they now' reunion feature.

Byeeee
Sadly Radio 2 management decided not to renew Ed's contract for 2006/7. On his final show in April 2006 Ed said he had been touched by the many listeners letters telling him how much they would miss both him and his music when he left. Many said they had listened since his Junior Choice days 39 years ago. The last record played on the last show was Always Look on the Bright Side of Life by Eric Idle.
He was also heard on English speaking radio in Spain during 2005/6 every afternoon 2-5pm on Spectrum FM and later on Coast FM on Saturdays, linking to the stations live from his UK studio.
Ed did however come back to Radio 2 in 2007 for another two shows; a nostalgic 40th birthday broadcast in September and a Christmas Day request show. The Christmas show proved so popular that another was scheduled for 2008.
Ed Stewart died on 9th January 2016 aged 74 in Bournemouth just days after suffering a stroke.
Following Ed's death, Bob Shennan, Director of BBC Music, said : 'Ed has been a stalwart of popular music broadcasting for many years and over the past few Christmases, he brought back Junior Choice to the delight of millions of loyal listeners. 'We are thinking of Ed's friends and family at this difficult time.'
RADIO REWIND AUDIO CLIPS

Please check Audio Help Page in case of difficulty downloading. You will need a username and password. Please register. Then you will be able to login.

Audio BBC
NEW Radio 1 & 2 weekday separation_info; Nov 1977
Wishing 'Happy Returns' 48kbps 64kbps
Junior Choice intro November 1978 (96kbps) 32k
Show theme tune 'Morningtown Ride'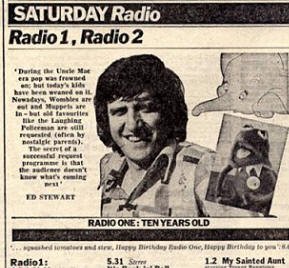 Cutting from Radio Times
Saturday October 1st 1977