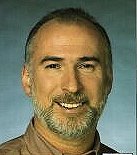 Ken with hair in 1991
Early Days
Ken was born in Glasgow in 1951. His first tentative words behind the microphone were at a Glasgow Hospital Radio station. Since no fatalities were recorded during his shows, he was offered the jobs of staff announcer and afternoon show host at BBC Radio Scotland.
Radio 2
Ken went national in 1984 with a Saturday night show on Radio 2. Within a year he took over the reigns of the Breakfast Show from Terry Wogan. Ken commuted each day from Glasgow.
In March 1986 he moved to his present slot of the weekday mid-morning show, 9.30-11am. where he has remained there for over 20 years.
His show features include the famous daily Popmaster music knowledge quiz, Record of the Week, Album of the Week and Tracks of My Years. Listener's comments are also aired by Ken.
Ken launched the Radio 2 Caring for Carers campaign in 1990.
His show continues to grow in popularity attracting over 6 million listeners per week.