Light Programme Drama
Paul Temple (1938-1968) The suave private detective and crime novelist together with his glamorous Fleet Street journalist wife solved numerous baffling cases. Paul Temple is a crime writer turned private eye, who is frequently sent for by Scotland Yard to help. The series was sold around the world in different languages. Temple was played by amongst others actor Peter Coke and the series was written by Francis Durbridge. The clip here is taken from episode one of The Gilbert Case broadcast during the Spring of 1954.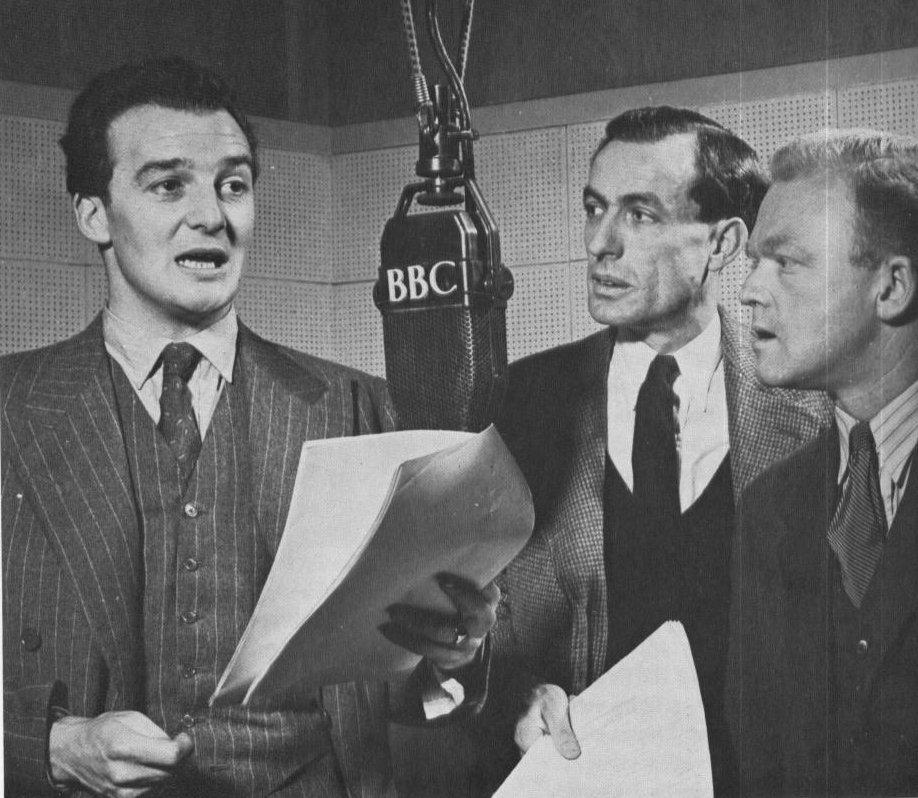 Dick Barton - Special Agent - pictured (1946-1951) At 6.45 on Monday 7th October, to the accompaniment of 'The Devil's Gallop', Dick Barton, Snowy White and Jean Hunter took to the air for the first time. The fifteen minute shows became so popular with children and adults alike that by 1947 the streets would clear during each weekday evening broadcast. Noel Johnson (seen above) played the original starring role as the 'intelligent and hard hitting agent who relies as much upon brains as brawn'. The plots always had to be completely feasible and relatively plausible.He was unable to commit a crime, or to hit anyone unless outnumbered by criminals. He was forbidden smoking, drinking, swearing and sex. Dick was eventually killed off, in order to make way for a new serial called 'The Archers' at Easter 1951.
Adventures of PC49 (1947-1959). The title role was played by Brian Rees as Archibald Barclay Willoughby the bumbling PC who somehow manages to solve crimes. A combination of light comedy and sleuthing in a character who also appeared in comic strips and films as spin-offs. He was the first uniformed policeman to become a national hero. The series was created by Australian journalist Alan Stranks.
Mrs Dales Diary (1948-1969) successor to 'The Robinson Family', The Dales is the BBC's earliest long-running radio serial. The storyline was based around Doctor's wife Mrs Mary Dale, (played by Ellis Powell) her husband Jim, and the comings and goings in their London suburb of Parkwood Hill in Middlesex. A new fifteen minute episode was broadcast each weekday afternoon with a repeat the following morning. First broadcast in January 1948, it was renamed The Dales in 1962. In 1969 it transferred to the new Radio 2 where it ran until April 1969 after 5,531 episodes! It was replaced by Waggoners' Walk. These two Dales episode clips come from 1948. Clip 2
The Archers (1951-1967) was billed as an everyday story of country folk. This longest running serial was first heard on the Light Programme but in 1967 it was moved to Radio 4 where it remains today. The Archers complimented Mrs Dales Diary. In a September 1955 storyline Phil Archer rescued his wife Grace Archer from a fire and accompanied her to hospital. His father and sister Dan and Christine awaited his return to Brookfield. This shocking storyline was planned to overshadow the opening night of ITV by pulling in eight million listeners.
Journey into space (1953-1958) was a science fiction series and the brainchild of BBC producer Charles Chiltern. Jet Morgan (Andrew Folds) boldly went with Doc, Lemmy and Mitch. David Jacobs voiced 22 of the characters. 72 episodes were aired and translated into 17 languages. 5 million people tuned in to the first episode. Clip 2
Links to other Light Programme shows heard can be found below.