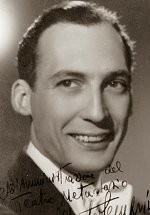 'Old ones, new ones, loved ones, neglected ones' - Semprini's opening lines to his weekday evening programme which ran for 25 years.
Alberto Semprini was of Italian descent and born in Bath. He studied both Piano and Cello and was to graduate from the Verdi Conservatory in Milan in 1928 as an expert concert pianist composer and conductor.
In 1957 the Semprini Serenade series was first aired on the BBC Light Programme with Semprini at the keyboard playing arrangements of old and new songs, light classics and themes from films and shows were exceedingly popular.
Semprini and his Serenade Orchestra were both well received and loved by their audience; the show ran for 25 years with over 700 programmes broadcast.