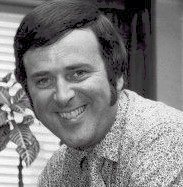 Born in Limerick, Ireland in 1938, Sir Terry worked in banking for five years before joining RTE Irish Radio as a newsreader and interviewer. After two years, Terry moved to the BBC Light Programme as a disc jockey, his first regular show being Midday Spin.
When Radio 1 started, he presented Late Night Extra (10pm to midnight) for two years, flying over from Dublin every week. This show was simultaneously broadcast on Radio 2.
In 1969, Terry took over his own weekday afternoon show aired on both Radio 1 and 2. In April 1972 he took over the 7.00 - 9.30am morning show solely on Radio 2.
In Sept 1972 he started a weekly Tuesday show on ATV 'Lunchtime with Wogan'.
In 1978, he had a chart hit with his voiceover to the 'floral dance' (an original hit - without words - for the Brighouse and Rastrick Brass Band in 1977). Terry started the voiceover on his breakfast show, and it was so popular with listeners that he released it as a single!
In an interview with the Daily Mail 24th December 1979, he said "I hate having to memorize things for TV; I prefer the spontaneity and intimacy of radio"
He left Radio 2 in 1984 to present the Wogan chat show on BBC TV but returned in January 1993 with Wake Up to Wogan!

Terry's has presented numerous BBC TV Programmes, including The Eurovision Song Contest, Celebrity Squares, Blankety Blank, Children in Need, Auntie's Bloomers' and the excellent daytime 'Wogans Web'. In 1993 Terry rejoined Radio 2 to present Wake Up To Wogan and won the 1994 Sony Radio Award for the Best Breakfast Show.
In August 2001, Terry launched a media attack on Radio 1 presenters Sara Cox, host of Radio 1's breakfast show and Chris Moyles, saying; "Sara Cox in the morning and Chris Moyles for the afternoon are both in-yer-face and both sometimes in doubtful taste. "It is probably reflective of the downward trend in British education. Radio 1 has deliberately set itself to appeal to the narrowest possible age group." he added that Radio 1 bosses are catering for "the lowest common denominator" and : "they're aiming it at the groin."
Terry's huge popularity is due in part to his professionalism and 'dry' wit. More than six million listeners tuned in each day to his two-hour show on BBC Radio 2 at 7.30 am weekdays.
Sir Terry Wogan confirmed to listeners on-air in September 2009 that he was to step down from the BBC Radio 2 breakfast show at the end of the year to be replaced by Chris Evans. His last weekday show was 18th December however he continued to broadcast a live show on Sundays on the station until November 8 2015.
Terry Wogan died on 31 January 2016, aged 77 at his home in Taplow, Buckinghamshire. Whilst reporting his death, media newspapers described him as a 'national treasure'. Radio 2 controller Bob Shennan said he was "one of the greatest and most popular radio hosts this country has ever heard". PM David Cameron said that he "grew up listening to him.. his charm and wit always made me smile."
RADIO REWIND AUDIO CLIPS

Please check Audio Help Page in case of difficulty downloading. You will need a username and password. Please register. Then you will be able to login.

Audio BBC
Introducing Alan Freeman in Dec 1970
Another Handover - What's New (1970)
Introducing Annie (1970) 3 mins
Handover to Alan Freeman (1970) 2 mins - Poor Quality
Dedications in 1970 - stay till 5! (1970)
Seeking promotion from Douglas Muggeridge (1971)
Welcoming to his afternoon show 1971 (64kbps size = 722Kb) 32kbps