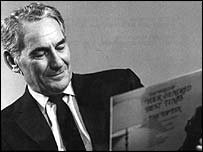 The show was first heard on the Light Programme on Sunday 15 November 1959. The original title was 'The 100 Best Tunes In The World'. Alan Keith, who came up with the idea of the programme, was originally contracted for a 13 week run. The show broadcast live from Broadcasting House. The first series featured Alan's own selections from his research with music publishers. The series was so popular that the Light Programme planners extended its run. The letters poured in and on 12 February 1960 the programme changed its name to Your 100 Best Tunes. Its time slot was eventually extended to an hour. When the Light Programme ceased in 1967 Your Hundred Best Tunes found a home on Sunday evenings at 9pm on BBC Radio 2.
Listeners' polls were organised - the last of these was held in the BBC's 75th anniversary year, 1997.
The top ten listener votes were:
1. In the Depths of the Temple (The Pearl Fishers) - Bizet
2. Finlandia - Sibelius
3. The Water Music - Handel
4. Rusalka s Song to the Moon (Rusalka) - Dvorak
5. Ode to Joy - Symphony No 9 - Beethoven
6. Adagio from Cello Concerto in E Minor - Elgar
7. The Nuns' Chorus (Casanova) - J. Strauss II
8. Piano Concerto No 2 in C Minor - Rachmaninov
9. Suite - The Planets - Holst
10. I Know That My Redeemer Liveth (Messiah) - Handel
The show was a favourite listen for many. The late Earl Spencer, father of Diana Princess of Wales, declared it one of his radio highlights and in 1988 he even presented the show whilst Alan was on holiday. Poet Ursula Vaughan Williams and distinguished oboist Lady Evelyn Barbirolli have also presented the show.
Alan passed away in 2003 aged 94, the longest serving and oldest presenter on British radio. He had presented the show for 44 years and had already taken the decision to step down with a recorded farewell programme.