Adrian presented the first early morning show on Radio 1 (the station had previously carried the Radio 2 early show presented by Ray Moore).
His warm and relaxed style Made him an ideal presenter to wake up to.
Adrian was a Disc Jockey on the QE2 Liner before moving to Radio 1 in 1983. Whilst here he presented Top of the Pops and toured the UK with the Summer Roadshow.
Adrian had to get up at 3.15 each weekday morning for his 6am show, as he lived an hour's drive away from central London.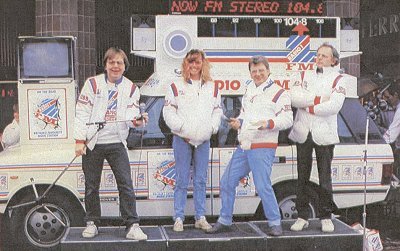 Adrian promoting new FM transmissions 104.8mHz in London 1987
He said (1987) that his show was "very one-to-one with the listeners" and he used to tell his listeners when to get dressed. One week however he didn't tell his listeners to get dressed and one listener didn't go to work for three days!
He spent five years at Radio 1 and from 1999 presents the breakfast show on Capital Gold in his home county of Kent, where he regularly performed on-air wind-ups and stunts until 2004.
2004 found Adrian at Saga Radio (Digital) where he plays romantic music every weekday evening.
RADIO REWIND AUDIO CLIPS

Please check Audio Help Page in case of difficulty downloading. You will need a username and password. Please register. Then you will be able to login.

AudioC BBC
NEW Adrian John Early Show jingle (mp3) 56kbps
"If you start the day without a smile,
Your food is indigestible and life looks vile,
And you have spots dancing before your eyes.
There's still one ray of hope for you,
So everything's acceptable the whole day through
I'll tell you what's certain to clear the skies.
If you crawl out of bed and you feel nearly dead,
And you don't care a hoot if you are,
Try this...
(The Early Show)
LaDeDaDeDaDeDaDeDa."
*************************************
The following 5 mp3 clips are taken from Adrian's show broadcast in 1986.
Travel, weather and an ambivert! (3 mins)
'Factazia' trailer for Mike Smith (1 min)
Yellow lines on Mars (0.5 mins)
Cheap alarm call (1 min)
Reading the headlines and introducing Mike Smith (2.5 mins)
**************************************
Adrian opens Radio 1 in 1987 (mp3) (mp3version)
Now try it yourself! (mp3) (mp3version)
**************************************