Alexis Korner (1975)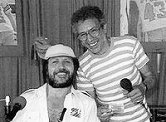 Alexis 1 with DLT
'Radio 1 on the road' (1981)
Factfile
Alexis had twenty-five solo albums released in his lifetime.
Out of 'Blues Incorporated' came bands such as the Rolling Stones, Cream, the AniMals, Free and Led Zeppelin.
A chain smoker all his life, Alexis rolled Gauloises shag tobacco.
Alexis was of half Austrian and half Greco-Turkish descent.
See also external links;
Often referred to as the father of British blues, Alexis Korner helped bring together many English blues musicians. He was a pioneer and major influence in the sound of the 1960's British pop groups.
EARLY DAYS
Born in Paris 1928, Alexis emigrated to England with his family at the start of WWII where he discovered American blues music. He learnt to play the piano and guitar, and aged twenty, joined Chris Barber's band, becoming part of the popular London skiffle scene in the early 1950's. Moving towards blues music, in 1954 he jointly opened a blues club in London's Soho, where he and harmonica player Cyril Davies played, later forming Blues Incorporated. The club embraced aspiring young musicians including Charlie Watts, Long John Baldry, Jack Bruce and Graham Bond. These sessions initiated the R&B revival movement, eventually leading to the formation of among others the Rolling Stones and Led Zeppelin.
BBC
During the early sixties he became show business interviewer on the BBC Home Service Today programme, and had his own slot in the Light Programme's Roundabout show, Korner's Corner. From 1965-1966, Korner worked hosting and playing as musical director for ITV's Five O'Clock Club, a weekly children's TV show which included pop, cooking and guitar spots! Alexis kindly allowed relatively unknown musicians to take part in the show.

CSS
Alexis found success in the UK in the 1970 with his band, CCS (the Collective Conciousness Society) where the big band treatment was given to Rock and Roll tunes. Alexis was front man, however most of the singing was by Peter Thorup. Their 1970 version of Led Zeppelin's Whole Lotta Love was used as the theme of BBC's Top of the Pops for many years and became a hit record. Also charting were 'Tap Turns On The Water', 'Brother' (used as the Sunday Top 20 Theme on BBC Radio 1)and 'Band Plays The Boogie'. CCS broke up in 1973 and Korner formed a group called Snape. Over the next few years, Alexis was frequently heard on TV and radio, as a popular advertising voice over artist.
RADIO 1
April 1973 and Alexis presented a unique 6-part documentary on Radio 1, The Rolling Stones Story.
January 1977 found Alexis on the air again, this time as DJ on BBC Radio 1, with his own weekly weekend hour-long evening slot; Alexis Korner's Blues and Soul show which replaced Stuart Grundy's 'It's Rock and Roll' show on a Saturday. Here he played to a UK audience the Delta Blues singers, Charles Mingus, Muddy Waters, boogie-woogie, free-form jazz, folk blues, work and prison songs. His popular Sunday night specialist programme turned on a whole new UK generation to both R & B and blues music. The series moved to a Sunday slot in 1978 and ran until 1982.
FINAL YEARS
In 1981, Korner formed the last group of his career, Rocket 88, featuring himself on guitar, Jack Bruce on bass, Ian Stewart on piano, and Charlie Watts on drums. They toured Europe and recorded several concerts.
Alexis passed away January 1st 1984, a victim of cancer. He was mourned by the many musicians and friends he had encouraged over the years. His influence on the development of the British rock and blues scene was immense and he is remembered as a much loved and respected figure.