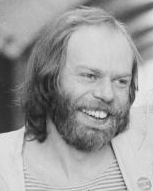 Bob Harris pictured in 1974
Factfile
* Bob was co-editor of 'Time Out' Magazine, and compiler of books Rock and Pop Mastermind and The Rockdate Diary.
*In the USA over the years he has interviewed Many famous music artistes including John Lennon, the Beach Boys and Bruce Springsteen. He has worked on radio in USA.
* He has won 3 Sony Bronze Awards for Music Broadcaster of the Year.
* In 2001 Bob completed his autobiography The Whispering Years.
*He has one of the largest private record collections in the UK.
With his unmistakable relaxed but concise voice, "Whispering" Bob Harris has held a long and varied career in the UK.
Early Days
Born in Northampton in 1946, he was first heard on Radio 1 in 1970 presenting along with other Radio 1 DJ's, the award-winning Sounds of the 70's series on VHF playing 'adventurous contemporary sounds'.
From 1972 to 1979 he was also seen on BBC 2, famously presenting the Old Grey Whistle Test, a show on which rock bands performed album tracks live, and were interviewed after they had played.
Laid Off
Bob was with Radio 1 for five years when he was laid off in early 1975 along with four other DJ's due to a financial cutbacks at the station. The 'Sounds of the Seventies' and the late night progressive music slots were axed.
Station of the Stars
He went to work for RTL Radio Luxembourg, recording his show in the London studios, but left in 1977 after only two years. Moving to Berkshire's Radio 210 initially to present a Saturday sports show and later becoming Head of Presentation and Music he stayed there until 1981. Next stop was BBC Radio Oxford where he presented the drivetime slot until 1984. Bob was heard across the globe on BFBS radio from 1986 to 1998 and during the first four years of that period also presented a night-time phone in show on London's LBC news radio.
Back on Radio 1
In 1989 Radio 1's controller Johnny Beerling invited Bob back to the station where he then fronted a weeknight early hours show.
His return was sadly short lived; with the sea change at Radio 1 in 1993 Bob had to leave again in October, this time not due to financial constraints but because of the restructuring of the station under new controller, Matthew Bannister.
He's National
He was heard on London's BBC GLR from 1994 -1998 but happily 'went national' again in 1997, this time on BBC Radio 2 where he currently presents a Saturday night and Thursday evening Country music show.
www.radiorewind.co.uk