Early Days
Born in Leeds in 1926, Jimmy Savile was the youngest of 7 children. His first job at 14 was as a coalface worker, then scrap metal seller. He used to all-in wrestle two nights a week. His first taste of the 'pop' industry was as an assistant manager for Leeds Locarno (Mecca Club). He later shot to fame on Radio Luxembourg in the 1960's with shows Teen and Twenty Disc Club, and Guys Gals and Groups. He was voted top British disc jockey for several years in that decade, by various magazines.
Top of the Pops
In January 1964, he presented the first edition of BBC Top of the Pops music programme on television, and was a regular presenter alongside other BBC DJs such as Pete Murray and Tony Blackburn for twenty years.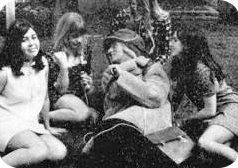 Jimmy in a park in 1967
Radio 1
Jimmy was not one of the original team of D.J.'s on the new BBC Pop station, starting instead nine months later. Here, he originally hosted Savile's Travels, a weekly Sunday show where he travelled up and down the country with a tape recorder chatting to interesting people and playing records. In one episode, he climbed Ben Nevis in the middle of winter. From 1969 to 1973 he also fronted Speakeasy, (theme; Yakety Yack by the Coasters) an hour long young peoples' uninhibited discussion programme interspersed with music. The unique show dealt with serious issues such as war, education, health and religion and politics.
It was reported in the media that he was romantically linked with Polly Brown from pop combo Pickety Witch for a short period in December 1972.
Double Top Ten
October 1973 and Jimmy presented the radio show he became famous for, the Sunday Afternoon Double Top Ten show, where as the name suggests, Jimmy would play two top ten charts from years previous with a bit of chat in between. He awarded 'points' to listeners should they be able to guess correct artistes and titles of the records played. Renamed The Old Record Club in 1978, with a theme tune The In Crowd by the Ramsey Lewis Trio. It ran until 1987. He went on to take the Double Top Ten format to commercial radio stations such as Radio City Gold in the 1990's.
Charity
Jimmy held the record for running up the BT tower in London, and was well known for running and walking marathons across the UK in aid of many good causes. He is famous for his outlandish clothes, Rolls Royce, cigar, jewellery and catch phrases such as "how's about that then", "now then, now then", "guys and gals" and "eaeh eh eaeh eh".
Television
By 1975 he was fronting the popular Saturday Jim'll Fix It show on BBC1 which was to run for nineteen years. Children could write in to the show asking that their most precious wishes be granted - such as blowing up a chimney or going up in a hot air balloon. Jimmy arranged that their dream came true and awarded them with a Jim Fixed It For Me badge.
Jimmy is also well remembered in the UK for his parts in long-running television commercials for British Rail this is the age.........of the train and Clunk Click every Trip public information films.
In 2000 he took part in a BBC TV documentary of his life When Louis Met... Jimmy; a controversial look into the life of Jimmy Saville by interviewer Louis Theroux. Much of the filming took place in Jimmy's home, a penthouse flat in Leeds, overlooking Roundhay Park.
Christmas Day morning 2005 found him back on the radio airways after an absence of eight years, presenting a three hour show, Jimmy Savile's Real Christmas Day Travels with charts of 10, 20 and 30 years ago. It was heard by 1.5 million listeners across the Real Radio network - see left for audio clips.
In January 2006 Sir Jimmy made an appearance in the Celebrity Big Brother House and offered to "fix" wishes for the housemates who included MP George Galloway.
Death
Sir Jimmy died at his home in Leeds on 29th October 2011. Tributes poured in from the public, royalty, show business, Radio 1 DJs and politicians. His funeral took place at Leeds Cathedral where Sir Jimmy's gold-lacquered metal coffin was carried into the church by the Royal Marines. Jimmy Savile had been one of only two civilians to complete a 30-mile trek with the Royal Marines - with full pack across Dartmoor to raise money for charity.
Thousands of mourners gathered to pay their respects. After laying in state, Sir Jimmys' body was buried at his favourite seaside town of Scarborough.
Abuse Allegations
During October 2012 allegations emerged about serious sexual assaults by Jimmy Savile upon under-age girls at the height of his fame. Some of the allegations - publicised in an ITV documentary - refer to incidents on BBC premises. The claims gave rise to a Police and BBC investigation (see top of this page).