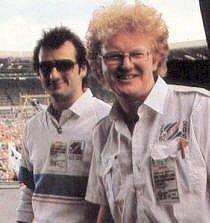 Mark (L) in previous role of Radio 1
Producer pictured with Andy Batten-Foster
at the Wembley Stadium 'Summer of
'84' concert.

Relaxing in 2002
Mark Radcliffe presented the mid-afternoon show on Radio 1 for over five years from October 1997. He was joined by Marc Riley and special guests. The show was noted for its R&B music, long, light hearted conversations between Mark Radcliffe and Marc Riley (often for ten minutes) as well as humorous record re-mixes and sketches.
Born in Bolton in 1958, Mark graduated from Manchester University in English and American studies. After a stint at Manchester's Piccadilly Radio he moved to Radio 1 in 1983, where he produced for the John Peel Show. In 1990 he went on to present for the fledgling Radio 5 with a weekly programme `Hit The North` which featured new music, humour and news. The show introduced Mancunian 'Lard' (Marc Riley) to the nation.
Mark began on Radio 1 in April 1991 with a weekly show Out On Blue Six mixing psychedelia with punk. He also presented The Guest List Arts program, on Thursday nights for two years.
Following Nicky Campbell's departure from the 10-12pm timeslot in October 1993, Mark & Lard launched a Monday - Thursday show called The Graveyard Shift, with news from the world of Art, Films & Music. The programme included poetry. N.B. Mark & 'Lard' were part of a rock group, called the Shirehorses who released two albums and played three dates with Blur.
Following Chris Evans' sacking in February 1997, Mark & 'Lard' presented the Radio 1 Breakfast Show, which ran for 7 months. Listener ratings fell sharply, however, and October 1997 saw the couple move to the 2-4pm Early Afternoon timeslot where they increased the weekly listenership to this slot by 0.5 million in the first year.
Mark's afternoon Show won a Gold Sony award for Best Daytime Radio Show in 1999 and in programming 2001. The show remained popular on the station but was axed by BBC management in 2004, the last show being aired 26th March.
Mark can now be heard on BBC Radio 2 presenting a weekday evening slot.
RADIO REWIND AUDIO CLIPS

Please check Audio Help Page in case of difficulty downloading. You will need a username and password. Please register. Then you will be able to login.

Audio BBC
NEW 1994 Trail
Mark_& Lard Animal Magic (2000)