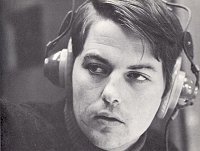 Pete DJ-ing in 1967
Factfile
Pete was hospitalised for four months when 11 years of age after being attacked by a dog in Jamaica.
He was the official UK and West Indies water-skiing championship entry in 1963.
Studied Medicine at McGill University in Canada.
Whilst in Jamaica on holiday from University, Pete catalogued the records at the local radio station.
Pete married show-jumper Judith Humble in 1966; wedding guests included David Jacobs, Simon Dee and Dave Cash.
During his time at Radio 1, he lived in a mews house in Belgravia, London.
Early Days
Born 1942 in Montreal, Canada, Pete's first experience of spinning the discs was at Radio Jamaica, covering for their regular DJ who had been involved in a car crash. Here he presented a mixture of slots including Sports, News and a Women's' magazine show. Moving to the UK in 1964, in December he presented the first record programme on the new offshore station Radio London. Pete fronted the daily Breakfast show at Big L until September 1965 when he turned freelance.
Light and Luxembourg
In 1966 he was approached by the BBC to become one of the presenters on the daily Light Programme pop show Midday Spin. He was also heard fronting Swing into Summer and the record review show Newly Pressed. Listeners in the UK and Europe also tuned into his EMI record shows on 208 Radio Luxembourg.
Radio 1 ... and Magpie
Following a similar path to DJs Tony Blackburn, Kenny Everett and Simon Dee, the natural progression was to Radio 1 at it's launch in September 1967. Pete was given a major six-day-a-week afternoon slot Monday to Saturdays. He played a varied mix of current pop and rock music, new releases as well as big band, jazz and instrumental music. The second half of the show was also carried on Radio 2.
In July 1968 he became one of the original presenters on Thames TV's new youth magazine programme, Magpie. Here he "flew jets, raced cars and played around with boats and space capsules." The commitment required for his TV appearances meant that when Magpie became a twice-weekly programme, he found difficulty maintaining his Radio 1 shows and Pete left BBC radio late in 1968. He continued with Magpie until 1972.
Back on the Beeb
1971 found Pete on Radio 2 presenting an afternoon show, however after a few programmes he decided the playlist and older target audience were not compatible with his own style of show, so the series was short-lived.
These Days
Now living in London, Pete is currently Chief Executive at Crystal Clear Film & Video Ltd., a corporate video Company which was established 1982 in SW London.
www.radiorewind.co.uk