Peter Powell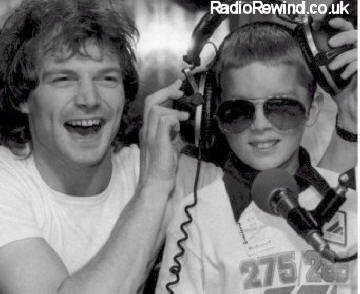 Former RTL Radio Luxembourg jock Peter Powell was with Radio 1 for 11 years, from 1977 (also see below).
Born 1951 in Worcestershire and leaving school at 17 Peter originally intended for a career in industry, but became a salesman by day and mobile DJ at night. He auditioned for the then new BBC Radio Birmingham in 1970, passed and launched the station with the breakfast show!
He went on to work for Radio 1 from 1972, presenting a Saturday afternoon show for just 3 months. He then joined Radio Luxembourg for 3 years, finding the Grand Duchy a lonely place for a bachelor. Moving to Radio 1 (again!) late 1977 to present the early evening weekday show, he said in 1978 that it was always his ultimate ambition to join Radio 1.
He was married to Anthea Turner for eight years from 1990.
Following his tenure at Radio 1, he became the manager for stars including Ant and Dec, Darren Day, his ex-wife Anthea Turner, Phillip Schofield and Melanie Sykes.
From Jan 2000 Peter Powell was chairman of Worldpop; a 7million media company targeting the teen audience. It included a music website and news service. Top 40 singles and album charts were sponsored for the first time in deal with compilers CIN from May 2000, and were re-titled the 'Worldpop UK Top 40'. The BBC could allow the new name to be acknowledged only twice during a show. Worldpop went into administration in November 2001, a casualty of the dotcom crash. The company was taken over by itouch, a mobile phone services company.
RADIO REWIND AUDIO CLIPS

Please check Audio Help Page in case of difficulty downloading. You will need a username and password. Please register. Then you will be able to login.

Audio BBC
Peter's morning weekend show in 1979
Hands over to Andy Peebles (1980)
Peter Powell's show with " Ring-a-disc" in 1980 (64kbps) 32kbps Version
Peter starting his 5.45's feature in 1982 (32kbps)
Sunday Morning Show August 1987
Saying 'tough' you can't get stereo! '87