| | |
| --- | --- |
| OFTEN SAID: | "BUT WHAT WAS THE YEAR " |
| OFTEN PLAYED: | LADY IN RED |
| STYLE | SINCERE SOUNDING DEEP VOICE |
Birmingham born (1947) Simon Bates lived in Shropshire until 1954, then Shropshire. Leaving the UK in 1965, Simon's first ventures into broadcasting began with New Zealand stations followed by Australian State stations for three years. He came back to his country of birth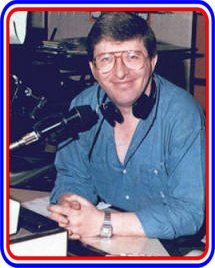 in 1971 to join BBC Radio 4.
He was the presenter of the early show on BBC Radio 2 from March 1974 until January 1976 during which period he also presented Late Night Extra and Folk '74.

Simon moved to Radio One in July 1976, initially taking over the Sunday Morning spot vacated by Paul Burnett with a new show 'All There is To Hear'.
Later that year Simon presented the mid-morning Radio 1 show, a position he was to hold for sixteen years, building a loyal audience of over 11 million. His show included;
'Our Tune' A feature which started in 1980, heard at 11.00 on his morning programme; Simon would read out a listener's story about their relationship, but changed the names of the people. The story was read out with the background music 'Romeo & Juliet', from Franco Zeffirelli's 1968 film score.
'The Golden Hour' A feature actually launched on Tony Blackburn's mid-morning show - but he gave away the year! On Simon's show, records were played and the listener had to guess the year they were all from). Later called 'The Mystery Years' this R1 feature ended 16 Feb 2001.

July 1985 - Simon on the 'Mammoth Mail Ride' celebrating 200 years of mail from York to London.
This Radio 1 event raised more than 50,000 for Sport Aid and lasted 9 days. It included
live broadcasts along the way. Controller Johnny Beerling ran alongside for miles in response
to an on-air bet.
In 1989 Simon followed in the footsteps of Phileas Fogg by attempting to travel "Around the World in 80 Days" along with Radio 1 entertainment producer Jonathan Ruffle. In 1991 he recorded a frank interview with pop princess Madonna.
Simon broadcast from over 50 countries in two decades. He was voted Radio Personality of the Year in 1993 and has won several Sony Awards for programming including his Around The World series and his specials on Eric Clapton. In a poll, Simon s voice was among the 10 most recognisable in Britain.
The station management did not have future plans for Simon who quit Radio 1 in October 1993. There followed a spell on the now closed Irish station Atlantic 252 and later BSkyB's Sky 1 (from Sept. 2000). Simon can presently be heard on the national UK classical music station, Classic FM presenting the weekday breakfast show.
Simon in Cairo with Radio 1 'Date with
Bates' prize-winner Andrea Atkins 1988
RADIO REWIND AUDIO CLIP

Please check Audio Help Page in case of difficulty downloading. You will need a username and password. Please register. Then you will be able to login.