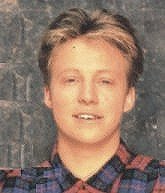 -
Simon Mayo
Rod McKenzie - Newsreader
on Simon's mid-morning show
Breakfast Crew 1988 - Carol Dooley, Simon Mayo and Rod McKenzie. Carol is now Program Director at Classic Rock 92.9 KISM, North of Seattle, and Rod
editor of Radio 1 News.
Carol Dooley wrote to Radio Rewind and recalled her time at the station;

"My time at Radio 1 was too short, just a few months, but it was very sweet. I count myself lucky that I got the opportunity to work with people I had always looked up to,- jocks who were huge to me and to most of their audience- Simon Mayo of course, DLT, Adrian John (great guy), Simon Bates, Steve Wright (who was just terrific). "
"Just to be in the same studio that Roger Scott had broadcast in was an amazing thing to me. What a wonderful broadcaster he was...Anyway most of these guys left not long after that time so I will always be grateful for having had the opportunity to work with some of them."
"Radio 1 just isn't the same any more. Johnny Beerling was a great boss though I remember getting into trouble for using the word 'toss' on the air (In Ireland it had a different connotation). I have a memory of Simon Mayo sliding onto to floor and I knew I had said something that I shouldn't!! I was young and shy and thought I would be fired!"
"I could tell you a couple of stories but it might be best to let them rest!"
Carol Dooley
Program Director
Classic Rock 92.9 KISM

1989 crew with weather and travel by
Sybil Ruscoe. The next year found Sybil with
her own tea time 'News 90' show.
Born in London in 1958, Simon Mayo studied history and politics at university.
He worked at local Radio Nottingham for 4 years before joining BBC Radio 1 in March 1986, with a two hour Saturday evening show. In early 1987, he took over the weekday evening show, taking over the Breakfast Show from Mike Smith in May 1988.
Simon had newsreader Rod McKenzie at his side for the entire Breakfast Show run, while the travel and weather presenters were Carol Dooley, Sybil Ruscoe, Jakki Brambles and Dianne Oxberry. The team had various "guest producers", among them were Gary Lineker, Paul Gascoigne, Billy Connolly and Eric Idle. Simon moved to his current mid-morning slot in October 1993. Simon's Pilgrimage To The Holy Land won Best Programme Award at the International Radio Festival of New York in 1987. Simon has fronted a number of documentaries for Radio 1, including John Lennon: In My Life and co-produced as well as presented a magazine series on religion entitled The Big Holy One .
His show was moved to a mid-morning slot in October 1993, from Simon Bates.
December 1999; Simon famously played Get On the Dance Floor by KLF. However Simon was unaware it was a re-mix of the tune, starting with the line "Get on the dance floor, mother f*****." The same phrase was repeated later in the song and he quickly ended it. Simon joked "I won't be here on Monday". A Radio 1 spokesman said "It was a genuine mistake and Simon apologises to anyone offended by the bad language."
He's won many awards, including the Variety Club BBC Radio Personality of the Year for 1990 and Sony National DJ of the Year in 1991. He has been affectionately known as 'the vicar of Radio One' due to his interest in religion. Simon is a fanatical Tottenham Hotspur supporter and loves curry.
Simon was with Radio 1 for 15 years. His popular Confessions radio feature where listeners confessed to 'evil deeds' was later made into a BBC TV series. Other features included King of the Movies, Mystery Years, Evil George /Wicked Will.
He left Radio 1 in February 2001 to present a current affairs show on BBC Radio 5 from May of that year.
Before signing off on his last show, he said; "One of the reasons I'm not going to do a DLT is that I've nothing to complain about at all - though as I'll still be employed by the BBC it'd be a stupid thing to do." The last record he played was Ace of Spades by Motorhead.
RADIO REWIND AUDIO CLIPS

Please check Audio Help Page in case of difficulty downloading. You will need a username and password. Please register. Then you will be able to login.

Audio BBC
Awkward Handovers
***************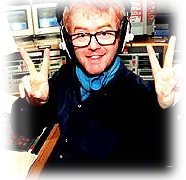 The following clips are taken during Radio 1 handovers from Chris Evans to Simon Mayo at 9.00 am through December 1996. Some handovers sound difficult due to the differing personalities.
Simon congratulates Chris (2m)
Wall Limbo (2m)
Lap Tops (3m)
Sending a Fax (2m)
Zoe Ball's Chair (3m)
Not Zoe Ball Day (2m)
Cycle Maintenance (5m)
Wheels (Cha Cha Cha) (2m)
Chris's Handkerchief (3m)
Hello London (4m)
Need for D.J.'s at Christmas (3m)
NEW! Confessions
***************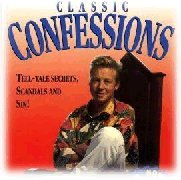 "I have a confession to make ..."
"We were fed up with everyone admiring our baby sister so we dyed her orange ..."

For the thousands of people who would never darken the door of a church, Simon Mayo s popular Confessions slot on Radio One s Breakfast Show provided the perfect opportunity for off-loading guilt and clearing consciences.
Enough here to raise a chuckle!

NEW The Goat (3m)
NEW Naughty Air Hostess (5m)
NEW Wedding Night (4m)
NEW Terry Wogan Confesses (1m)
NEW Naughty Old Lady (3m)