Radio 2 History
1970-1979
Jack Jackson came back to Saturday lunchtimes in 1971 with his popular comedy and music show Record Roundabout, a show which he first presented on the Light Programme in 1948.
Tony Brandon crossed over from Radio 1 in 1971, where he hosted many Radio 2 for 11 years, including Tony Brandon Meets the Saturday People.
Terry Wogan moved to breakfast in 1972 when he took over the 7.00 - 9.30am weekday show broadcast solely on Radio 2. In 1978, he had a surprise chart hit with his voiceover to the 'floral dance'. Terry first did the voiceover for fun on his breakfast show, but it became so popular with listeners he released it as a single!
Deep voiced Simon Bates joined the station from Radio 4 and was the presenter of the early show from March 1974 until January 1976 during which period he also presented Late Night Extra and Folk '74.
A 26-year old Sarah Kennedy joined the station in 1976 fresh from BFBS radio in Singapore. On Radio 2 she read the news bulletins and presented on the popular Sunday show Family Favourites until 1980.

Sheila Tracy - Trucker's Hour
Light programme stalwart Sheila Tracey and her late night music show she devised herself called Trucker's Hour arrived in 1976. Sheila had been the first permanent female newsreader on Radio 4 in 1974.
Weekend lunchtimes in the 1970's were fun with Roy Castle's comedy show Castle's On The Air, Hello Cheeky (from 1973) with Tim Brooke-Taylor, Barry Cryer and the long running News Huddlines with John Junkin, Roy Hudd, June Whitfield, and Chris Emmett.
David Jacobs was heard weekday evenings presenting the light music show "After Seven".
During the early seventies more than 4 million people tuned in to Waggoners Walk (beating rival Radio 4 soap The Archers). However, as part of the BBC's money saving plan, the series was axed after 2,828 episodes in May 1980. The producer was aware of the stoppage only four episodes before the proposed end preventing a conclusion of the running storylines.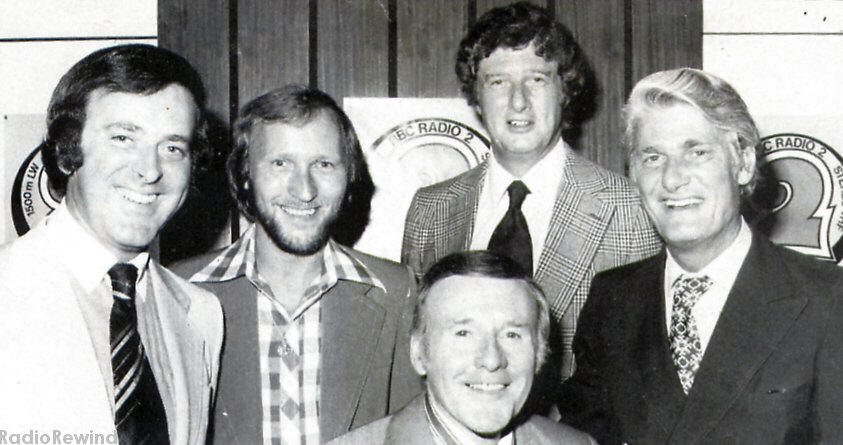 Terry Wogan, Colin Berry, Jimmy Young, John Dunn and Pete Murray celebrate 10 years of Radio 2.
From 1973, now heard exclusively on Radio 2, Jimmy Young took his mid-morning music and topical chat show to many foreign locations, including Brussels, Moscow and Rhodesia.
In September 1972 the BBC began stereo transmissions on 45% of programmes on Radio 2. The event was marked in October by a special stereo week highlighting the improved soundstage of programmes. London and the south coast was covered first whilst Scotland, Wales and the West had to wait until 1974.
Throughout the seventies Pete Murray chatted with hundreds of guests in his weekday morning show Open House with celebrities from the world of film, TV, music and entertainment.
Sam Costa read listener's recipies on air during his lunchtime show which moved to teatime in 1971.
Fridays in 1975 was the day for specialist music, with evening shows including Folk '75, Folkweave with Tony Capstick and ex-Vipers lead singer Wally Whyton's Country Club.
Newsreader and Eurovision star Colin Berry opened the station from 1977 for many years with the weekday early show at 6am.
Due to financial cutbacks Radio 1's afternoon DJ "Diddy" David Hamilton was heard on both Radio 1 and 2 from 1975 to 1977, when he defected to Radio 2 solely until 1986.
Nick Page brought his well-modulated voice to Radio 2 in 1977 when he presented the weekday drivetime show for two years.
Jimmy Tarbuck, Les Dawson, David Niven, Dana, Penelope Keith, Sacha Distel, and Roy Castle all hosted shows during the 1970s.
433 and 330; the use of 1500 metres long wave broadcasting came to an end for Radio 2 in November 1978, a wavelength the station had been associated with since the Light Programme days in 1945. Transmissions were now made on two new medium wavelengths, 433 and 330 metres (693 and 909 kHz).

(BBC) Tim Gudgin
- new show
January 1979 saw Radio 1 and 2 become separate stations with no more sharing of programmes. At the same time Radio 2 began broadcasting for 24 hours a day when Tim Gudgin (the "voice of the pools") introduced a new programme from 2.00 to 5.00am called You And The Night And The Music. The stations also gained separate controllers instead of sharing one.
By 1979 Sing Something Simple and Your Hundred Best Tunes both celebrated a run of 20 years in a Sunday evening slot.
New shows in 1979 included Big Band Special introduced by Sheila Tracy, a show she presented until 2001 and which can still be heard on Monday nights; Folk on Friday presented by Jim Lloyd and his wife Frances Line, who was to become head of Radio Two in 1986. The couple fought to preserve minority music on national radio through specialist shows.
The Grumbleweeds supplied listeners with a great big dose of music, comedy and impressions on the Grumbleweeds Radio Show from 1979 to 1983.
Glenn Aylett kindly wrote to Radio Rewind in 2009;
"I have just been reading your feature on the history of Radio 2, but I noticed one glaring omission from the seventies. In April 1970, as part of the BBC's Broadcasting in the Seventies plan, Saturday sport was moved from Radios 3 and 4 to Radio 2, when the long running Sport on 2 started. Also midweek European football matches were a popular feature in the seventies and eighties, when live football (mercifully) was very rare on the television. This gave Radio 2 a younger audience on Saturday afternoons and weekday nights, although I doubt many would hang around for Listen to the Band, and the loss of Sport to Radio 5 in 1990 would have lost the station a good few million listeners.
Sorry to be a bit pedantic, but Radio 2, apart from Max Jaffa and Sam Costa, was the home of radio sport for 20 years."

Glenn Aylett
Cumbria