Early Days
Born in East Grinstead, Sussex in 1950, Sarah's father was a stockbroker and her mother a nurse. She studied for two years at drama school, becoming a drama teacher. She was a Matron at Copthorne Preparatory School in West Sussex. In her twenties she married a member of the armed forces.
Sarah began her radio career as an announcer on the British Forces Radio BFBS based at Singapore.
Aged 26 she joined Radio 2, reading news bulletins and presenting the popular Sunday armed forces request show Family Favourites.
Sarah closed Radio 2 down for the very last time after reading the 2am news on 27th January 1979. The station began broadcasting 24 hrs later that morning.
Sarah left Radio 2 in 1981 to become a presenter on ITV's new practical joke show Game for a Laugh along with co-hosts Henry Kelly and Jeremy Beadle. She went on to take part in various other TV shows including The Animals Roadshow, Busman's Holiday and Animal Country.
Early Breakfast
She came back to Radio 2 in 1992 presenting the weekday early morning show. Here, Sarah played a wide range of records and shared stories with listeners about her 'dearly beloved' her old Aunt, the cat and the house.
She picked up the nickname 'Bunty Bagshaw' reflecting her perceived 'jolly hockey sticks' persona.
During her first year Sarah received a letter from an Oxford don who said he had suffered severe depression and that her show had saved him from suicide.
In 1995, Kennedy received a prestigious Sony Gold Radio Award.
Prune
During a Friday show sitting in for Terry Wogan in May 1999 she called a clergyman on Thought For The Day an old prune , fellow DJ Ken Bruce an old fool and said that a newsreader had soiled her pants. She apologised the next day citing lack of sleep as cause of her inappropriate comments.
Listeners ended letters to Sarah with 'Love the show'. She mentioned that this made her sound a bit like Steve Wright. People then started writing in 'Steve Wrights to you', which has since been shortened to SW's; meaning 'love the show'.
Media
During 2009 Sarah was in the news again with articles written about her slow speech, so-called on air political incorrectness as well as her personal appearance.
RADIO REWIND AUDIO CLIPS

Please check Audio Help Page in case of difficulty downloading. You will need a username and password. Please register. Then you will be able to login.

Audio BBC
Nightmare, Chanel Tights and Convoy GB 14.10.02.
Steady on, naturists 27.02.04. Regroup
"Re-group tomorrow, if spared."
Sarah Kennedy's parting words daily on Radio 2.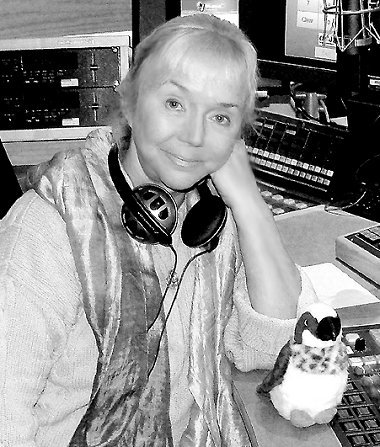 Photograph copyright BBC
Last Show
Sarah did not mention that her Radio 2 show on Friday, August 13 2010 was to be her last on the network. During a subsequent interview with the Daily Mail in 2010 she said that she had to quit due to a poisonous atmosphere at work and that unknown enemies were out to get her. She said it was sleep deprivation, not alcohol, that had made her slur words and come out with inappropriate comments.
Following her departure, Bob Shennan, the controller of Radio 2, said: "Everyone at Radio 2 would like to thank Sarah for her many years of sterling service, and wish her the very best of luck for the future."
Sarah's unique shows were loved by her many fans, many of whom protested on the Radio 2 message boards when her association with the BBC was severed.
Latest edit 27/03/16