In the Radio 1 Studio 1980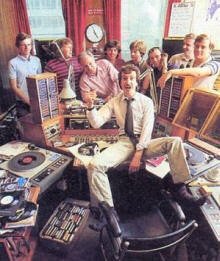 With the Radio 1 Posse 1983
Publicity Shot 1987
With Bros on the cover of 'On Show' magazine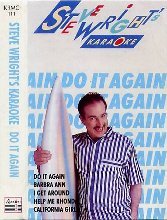 Karaoke cassette (1990) Steve wrote on the sleeve notes "you've paid a little bit of money for this album, but it turns out to be better than vitamin pills"
Publicity advertisement for the Radio 2 show; Saturday Daily Express Magazine, Sept 2001
"Hmm.. which jingle shall I play first "
Steve Wright (b. Greenwich 1954) first worked for several departments in the BBC including the record library during the mid-1970's. In 1976 he moved to Reading's Thames Valley Radio initially making trails and jingles and later presented his own show. He also worked at Radio Atlantis (Belgium) and Radio Luxembourg (RTL) in 1979.
In late 1979 Steve joined Radio 1 originally presenting a Saturday night show, then a chat show, the Top 40, and, with Mike Read as his partner for the entertaining Read and Wright show.
In 1981 he moved to daytime with 'Steve Wright in the Afternoon'. This popular, entertaining and innovative programme featured comical guests such as Mr. Angry from Purley, and 'Mick Jagger', catchphrases such as 'Get Some Therapy' and 'He's Allright'. He was helped on-air by the 'afternoon boys' who included Jonathan Ruffle, entertainment producer, (Happening Boy) playing the characters 'The Pervy' and co-creating 'Dr Fish Filleter'. Many of the characters were voiced by top comedy impressionist Phil Cornwell.
By 1988 his show attracted 7.2 million listeners. Steve was voted the nation's most popular DJ by readers of Smash Hits magazine in a 1994 poll.
In January 1994 he was offered the premier show slot at the station, the Breakfast Show.
Steve put forward his resignation from Radio 1 just a year later on 13th January 1995 as he was unhappy with the plummeting listening figures of the station due to its restructuring under Radio 1 controller Matthew Bannister. He was also known to be bitterly unhappy that his producer, Mik Wilkojc had chosen to leave. He also disagreed with being told what records to play on his morning show. BBC bosses subsequently threatened court action against Steve's prospective employer, Talk Radio UK since Steve s Radio 1 contract was valid until 1997.
His morning show was replaced by Mark Goodier for 3 months and Steve went on to front an afternoon show on Talk Radio.
Since April 1996 he has been heard on BBC Radio 2, broadcasting a Saturday morning show until 1999 when he once again presented the 'Steve Wright in the Afternoon' show, 2pm-5pm Weekdays. His show includes 'Old Woman' 'Elvis' 'Another True Story' and his excellent 'Non-Stop Oldies' feature.
He has also been heard as the regular voice for the BBC 2 show 'Top of the Pops 2'.
RADIO REWIND AUDIO CLIPS

Please check Audio Help Page in case of difficulty downloading. You will need a username and password. Please register. Then you will be able to login.

Audio BBC
Breakfast Trail 1980 - sitting in for DLT
Rare early Trailer for show (1982)
1982 - announcement of Industrial Action
Radio Local & Michael Jackson! 64kbps
Damien the Social Worker (1982)
With Mike Read in a Florists (14.02.85) (2mins)
What Kind of Kisser (1985) (2 mins)
Steve Wright in the Afternoon Jingle
True Story read by Mark Page (1986)
Gervais on a Sunday Morning (1986)
Sunday Morning 'Classical' Jingle (1986)
Handing over to Jimmy Saville 19.01.86
Trailer for Celluloid Rock Show (1987)
Jingle for R1 roadshow (1987) 56kbps
Gary Davies introduces Steve's show in 1988
All that scratchin's making me itch! (1988)
Mr. Mad - (he's raving mad) (1988)
Welcome back after the news (1988)
Let's hear it for the boys, boys (1988)
Guest Robin Williams (Sept 1988)
Show Song 'lots of great records'
Show Song 'my favourite station'
Sybil Ruscoe in 1991 - release of Jack Mann
Steve in 1991 including a trailer for 1FM news
The following seven clips are taken from a show Broadcast on 8th May 1991
1) Introducing the show (1.5 mins)
2) This day in..- inc. '31 days in May' trail (3 mins)
3) Do you know a Milky Bar kid (1.5 mins)
5) Steve & Posse discuss USA shows (4 mins)
6) The 3.30 news (1 min)
7) Hotter than ever & 3 to 5.30 jingles
Arnie Looks for 'J R Hartley' (1991)
Eastbourne Roadshow intro (1991)
Winner Ron Keates gets his own Jingle (1992)
Trail for Mark Goodier and News '92
ARNEE & THE TERMINATORS 1991