Page 2 -Washford
Page 3 -Droitwich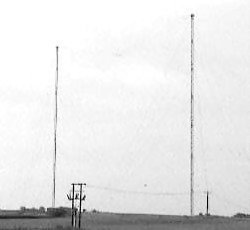 The 247m wavelength (1214kHz) transmitting masts at Washford, N. Somerset, in 1967.
- 247m
Washford has Broadcast AM radio signals to South Wales and the South West of England since 1933. The 2 supporting masts shown are 152m high. In 1967, Washford was the most powerful Radio 1 247m transmitter in the UK at 60Kw.
Radio 1 was transmitted from here on 247 (1214KHz) from 1967 until November 1978, then 275m (1089KHz) until July 1994. Prior to 1967, the 247m transmission was used as a relay for the Light Programme on the medium waveband.
Today Washford transmits 100Kw of Virgin AM on 1215KHz, 100Kw of BBC Radio Wales on 882KHz and 80Kw of Talksport on 1089KHz.
The line up of UK 247m (1214kHz) transmitters on the 30th September 1967 was as follows;
| | |
| --- | --- |
| TRANSMITTER SITE | ERP POWER (kW) |
| BRIGHTON | 1 |
| BROOKMANS PARK (LONDON) | 35 |
| BURGHEAD | 20 |
| DROITWICH (WORCS) | 30 |
| FAREHAM (HAMPSHIRE) | 1 |
| HULL | 0.15 |
| LISNAGARVEY (N IRELAND) | 10 |
| LONDONDERRY (N IRELAND) | 0.5 |
| MOORSIDE EDGE (YORKS) | 35 |
| NEWCASTLE | 2 |
| PLYMOUTH | 0.5 |
| POSTWICK (NORFOLK) | 1 |
| REDMOSS (GRAMPIAN) | 2 |
| REDRUTH (CORNWALL) | 2 |
| WASHFORD (SOMERSET) | 60 |
| WESTERGLEN (STIRLINGSHIRE) | 25 |
Three low power fillers were later added to the original transmission network: Tywyn on 1214 and Bournemouth and Torquay on 1484, broadcasting Radio 1 until 1978.
Additionally, power outputs have since been increased; the London, Yorkshire and Somerset transmitters to 100kW and Droitwich to 105kW.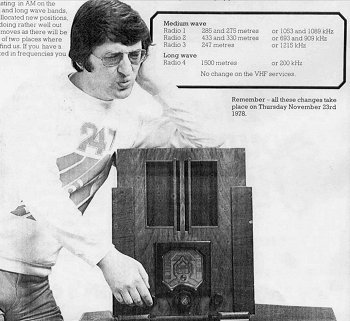 The transmission wavelength of Radio One was moved from 247m (1214 kHz) to 275 & 285m (1053 & 1089KHz) in November 1978 as part of a plan for BBC AM broadcasting in order to improve national AM reception, and to conform with the 1975 Geneva Conference on radio wavelengths.
The use of two AM frequencies avoided the problem of interference due to nearby transmitters operating on an identical frequency. Droitwich (Worcs) 1053 and Brookmans Park (London) 1089 transmitter powers were increased dramatically on the new frequencies, by a factor of 5 and 4 respectively.
The Droitwich transmitter became the most powerful MW transmitter in the UK at 500kW. National transmission power on AM Radio 1 overall was increased from 550kW to 1,250kW. Two million pounds was spent by the BBC on new equipment and masts.
RADIO REWIND AUDIO CLIPS

Please check Audio Help Page in case of difficulty downloading. You will need a username and password. Please register. Then you will be able to login.

Audio BBC
GOLD First 7 mins broadcast on 275 & 285
DLT Explains overlapping wavelengths
Unfortunately, Radio 1 was the only of the four networks not to have a FM frequency allocated, and this was the case for 21 years. The official reason for this omission was that there was insufficient space on the FM dial, although there were no licensed independent commercial stations at the time. Radio One was, however, allocated FM instead of Radio Two on Saturday Afternoons, Sunday Evenings (1 Hour initially), Weekday evenings (10pm to Midnight) and UK Bank Holidays.
BIG FM SWITCH -ON
In 1987 a frequency range of 97-99Mhz was allocated as the UK Police relay transmitters were moved from the 100mHz FM Frequency.
BBC Engineering fax November 1987 (click)
The national FM transmitter roll-out started Oct 1987 (London 104.8MHz) and was broadly completed by the end of 1989.
There was a big Radio 1 'switch on' day on Thursday 1st September 1988 with Bros flying around in a helicopter when 65% of the UK was covered by the transmissions.
Existing BBC FM sites were used, and the transmission power matched those of the other 3 networks.
Radio 1 lost its AM 1053/1089KHz (275/285m) frequencies at 9AM on the 1st July 1994 due to a Government Bill to encourage commercial radio competition on AM. In many areas of the country car radio reception is poor on FM.
RADIO REWIND AUDIO CLIPS

Please check Audio Help Page in case of difficulty downloading. You will need a username and password. Please register. Then you will be able to login.

Audio BBC
Mike Smith announces 104.8 FM in London - Oct 1987 32kbps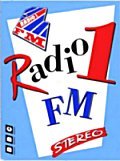 FM Transmitter Test Broadcast 98.4 August 1988 32kbps version
Adrian Juste announces a new Scottish Transmitter
Mike Smith announces Newport Gwent 98.7 FM
Tommy Vance announces Wenvoe (Cardiff) Frequency Change 99.5MHz
Tommy Announces 98.8MHz for London 64kb version
Four New R1 Transmitters in One Day! 64kbps version
"FM - minus 11 trailer" (1988)
The Great Radio 1 Switch-On (1 More Time show) 32kbps version
NEW Cut the Crackle trail 1991
Information on RDS system (1993)
***********
STAGES OF THE 1053/1089Khz MEDIUM WAVE SWITCH OFF
1) During June 1994, Radio 1 broadcast regular interruptions (Nicky Campbell) to the AM audio feed stating that " You are listening to Radio 1 on Medium Wave.... Radio 1 will only be available on FM...please retune.....) Nicky tells us to retune
2) After much on-air hype about the benefits of 1FM, Steve Wright's breakfast show on Friday 1st July 1994 is the last show heard on 275/285m. Steve states just before the last Radio 1 AM record played (Stephen Tin Tin Duffy - Kiss me with You're Mouth) "welcome back...you've re-tuned to FM" but was unaware that at this stage the feed was still to AM transmitters. The whole of the next record was heard also broadcast on AM. The clips below are of the final live Radio 1 broadcast heard on that frequency and include an excellent montage of jingles (by producer Simon Sadler) heard on Radio 1 between 1994 to 1967.
This was the first -and last- time Radio 1 had not broadcast the same feed on FM and AM frequencies. The last jingle heard on both FM and AM was a female singer "ooh....97 to 99.....BBC Radio 1 FM). Ironically, Steve Wright would be broadcasting live on this frequency in less than 12 months time....but on a different Radio station (Talk Radio)!
Final Countdown Short (Low Quality 6 minute version)
GOLD Final Countdown Full (Better Quality 13 minute unedited version)
3) Mark Goodier is a loop for a couple of months.. Retune
GOLD 4) Possibly Harry Enfield saying "Goodbye to listeners everywhere" prior to the opening of Talk Radio AM 1053/1089 metre transmissions January and early February 1995; Goodbye
***********
MORE RADIO 1 INFORMATION
1988 - ON THE NEW FM TRANSMISSION