HISTORY LINKS
One-derful Story Launch day 1967 Timelines- 1966 1967 1968 1969 1970 1971 1972 1973 1974 1975
1976 1977 1978 to 1992 1993 to 1997 Original Presenters Logos R Times Cuttings -60's 70's 80's
Listings - 1960's 1970's 1980's 1990's Campaigns & O.B's Transmitters Egton House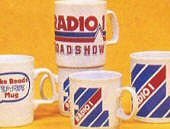 Radio 1 'Goodies' were available through mail order, and also when the D.J.'s made personal appearances, they would give them away to members of the audience.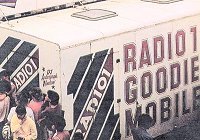 You could buy them from the Radio 1 roadshow 'Goodie Mobile' for a fair price. An extended range was distributed through the 1980's. SADLY, NONE OF THESE ITEMS ARE AVAILABLE ANY MORE FROM RADIO 1.
**Please click on the small pictures in the table below to enlarge.
**When finished viewing the large picture, click the close button (x)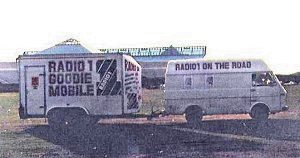 Goodie Mobile on tow....
....more items for sale in this Kiosk (click to enlarge)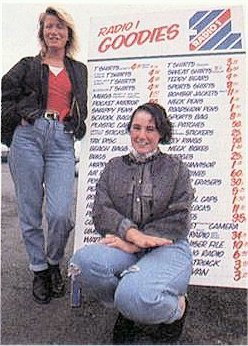 1987 price board & 2 fans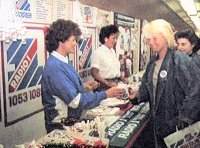 Goodies for sale inside the Action Special train