Technical plan to disconnect Egton House
audio feed to transmitters (1996)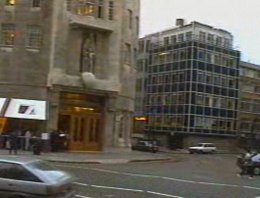 September 1992 - Egton can be seen on the
right of Broadcasting House.
May 2003 - Egton House now completely removed,
in preparation of refurbishment of the front of
Broadcasting House (left). The steps of
All-Saints Church can be seen on the right.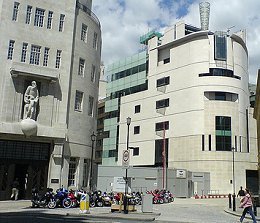 June 2006 - the Broadcasting House facelift and
new Egton Wing is complete.
Connecting Yalding House audio (1996)
RADIO REWIND AUDIO CLIPS

Please check 'Audio Help Page' in case of difficulty downloading.

Audio BBC
NEW Take a tour of Egton House in 1992 with Steve Wright as your guide.
Audio Workshop - Mikey Walmons
Breakfast Show Studio - Simon Mayo & Crew
Senior Producer Office-Paul Williams & Mik Wilkojc
In BH we find the Playlist Committee Office
Also on BH Phil Lawton with Archives
Tommy Vance plays some archive material