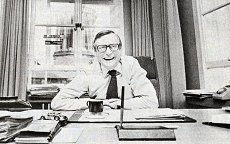 Derek at his Radio 1 desk in1982
Picture: Smash Hits
Titbits
In 1967, Derek (then producer) went over to Luxembourg to invite Emperor Rosko to join Radio 1 at its' launch. Rosko eagerly accepted the invitation.
He was known to have personality clashes with Kenny Everett.
Derek hired Gary Davies, Emperor Rosko (2nd time) and Steve Wright.
He reportedly once described Radio 1 listeners as "unemployed student louts with no money to spend" !
Derek still used the term "gramophone records" in conversations during his management of Radio 1.
Derek Chinnery was the Controller of BBC Radio 1 from 1979 to 1985.
Born in 1925, he joined the BBC straight from school in 1941, working through the radio ranks in engineering and production. He was involved in 'Pick of the Pops', 'Pop Inn' and 'Radio 1 Club', and was formerly Chief Light Programme Producer.
Taking over the management of Radio 1, from his predecessor Charles McLelland, Derek s responsibilities included major policy decisions on the image, quality and finance of the station.
He ensured the PPL - Phonographic Performances Limited - were correctly paid the 2,250,000 (1982) each year about 12.00 for every record played. Needle time restrictions were closely monitored and balanced by specially recorded sessions. He removed the requirement for a playlist, providing more freedom of choice to the station"s DJ"s.
Derek described Radio 1 as a "personality station" and oversaw suitable personalities to suit the various programme times. From the fizzy, pally approach of daytime presenters like Mike Read with the emphasis on Top 40, into Peter Powell playing something more adventurous, Kid Jensen more so, and finally late night John Peel, with the sharp end of music, and a listening audience tiny in comparison to breakfast but much more dedicated.
He was aware that a common criticism of Radio 1 was that it was too conservative, and therefore decided that except in very exceptional circumstances, a record could only be played once every four hours. He believed the most successful thing the station could do was to "play people their favourite record, then their next favourite, and so on. Then you reach the point where you think perhaps they would like to hear something new."
He relaxed the guidelines on banning records, allowing records to mention a commercial product. His belief on records dealing with controversial issues is illustrated with the 1982 release by Rhoda Dakar, titled The Boiler. "If you believe that the record has some value as a warning, then it has no meaning unless you leave all that screaming in and if you leave that in, then its bloody unpleasant to listen to."
Derek paved the way for his successor, Johnny Beerling after six years in charge.
www.radiorewind.co.uk