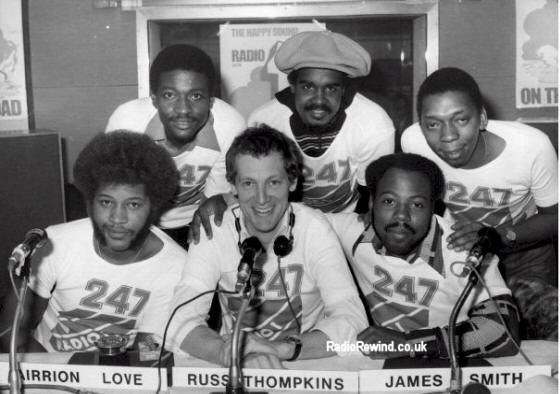 (front, centre) with The Stylistics in 1975. Note the 'Roadshow' posters in the background.
HISTORY
Born in Lymington in Hampshire, is an accomplished actor, starting with the National Youth Theatre then the Royal Academy of Dramatic Arts. He has appeared in several films, including Prudence and the Pill, Decline and Fall and the Vampire Lovers. He has also performed across the UK in repertory theatres and in plays for BBC/ITV.
Tom had worked for Danish Radio since 1965; and was asked to replace Alan Freemans Pick of the Pops to present a new style Sunday evening Chart rundown. His shows are well remembered for his distinctive cultured voice.
SOLID GOLD SIXTY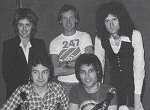 QUEEN with Tom Browne
His first show was aired 1st October 1972; it was called 'Solid Gold Sixty' broadcast on Radio 1 from 4pm-7pm. The show counted down the weeks Top 60 best selling singles chart with the last hour featuring the Top 20. The last hour of the show was also carried by Radio 2 Long Wave and VHF.
NEW JINGLES
For the first time each chart position from twenty to number one had an individually numbered sung jingle provided by Pams Productions of Dallas, Texas which was played prior to each record. Other jingles heard for the first time were 'It's a Top Twenty Entry....Right!" and "Solid Gold 60" jingles.
The first show found David Cassidy at number one with 'how can I be sure'. During his time at the station Tom also recorded several special shows for Radio 1 where he interviewed top chart hit makers Abba, Queen, The Stylistics, Neil Sedaka, Kris Kristofferson and Rita Coolidge.
Much More Music
Solid Gold Sixty ran for 18 months until March 1974 leaving Tom to present a shorter Top Twenty show on Sundays from 6pm - 7pm. Tom presented this show until March 1978 when he was replaced by Simon Bates. During his period of fronting the show, Tom had introduced chart hits from the likes of David Bowie, Rod Stewart, Status Quo, Elton John, Queen and The Bay City Rollers. From May 1980, Tom was briefly heard on Radio 2 again when he fronted the 4pm - 6pm drive time easy listening disc show 'Much More Music', sitting in for regular presenter David Symonds for a fortnight.
On leaving the BBC, Tom continued a career in acting and his voice was used in many British television commercials.
RADIO REWIND AUDIO CLIPS

Please check Audio Help Page in case of difficulty downloading. You will need a username and password. Please register. Then you will be able to login.

Audio BBC
Top 20 Opening theme - Brother by CCS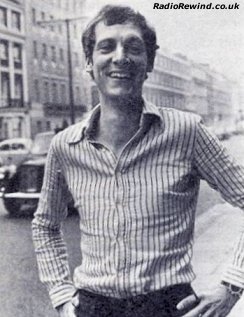 Introducing Marie Osmond at Number 2 1973
Top 20 Countdown March 1975 32kbps
The countdown bed Tom voiced over in 1975 is "Oh My My" by David Hentschel.
Prior to this track he used "Lady Madonna" by Apollo 100.
Tom introduces no.16 in April 1976 64kbps 32kbps
Tom introduces no.11 in 1976 64kbps 32kbps
Kate Bush at Number 1; and Radio 1 closes down
Ex- R1 DJ and now BFBS presenter Dave Simmons wrote to Radio Rewind in 2007;
"Tom was a newsreader for Worldwide Television News in the 80s, but then went off to the Far East, and was a great success fronting BFBS Radio Hong Kong's weekday breakfast show until the territory reverted to the Chinese in 1997. Now in Thailand with his Thai wife, he owns a farm where they grow rice and mushrooms. My wife and I visited them recently and my attempts to get Tom to put his great James Mason-soundalike voice to use again professionally fell on deaf ears. He's perfectly happy, thank you, leading a peaceful life as a farmer in an idyllic setting, with rice fields front and back of their house, and the mountains of North Central Thailand in the distance."
Top Twenties Archive
NEW 04.07.76 Top 20 pt 1 6.00-6.30pm
NEW 04.07.76 Top 20 pt 2 6.32-7.03pm
Counting down Top 20, 16th_Oct_77 - David Soul at no.1
Stephen Mills wrote to Radio Rewind;
"the backing track in the countdown is "From Here to Eternity" by Giorgio Moroder, which was sitting at Number 21, in the chart that week, but would have been on the top 20 the following Sunday, in full, as it rose up to number 16. "
NEW Top 20 of 1977 show broadcast on Radio 1 and 2 (including VHF) 6PM - 7PM on Sunday 1st January 1978. Includes handover to Radio 2 with news.
Chart of the Year 1977 (24 min)
Includes: Space - Magic Fly, Status Quo - Rockin' All Over the World, Kenny Rogers - Lucille , Abba -Name of the Game, Barbara Streisand - Evergreen, Boney M - Ma Baker, ELP - Fanfare for the Common Man, Wings - Mull of Kintyre, La Belle Epoque - Black is Black, Bacchara - Yes Sir I can Boogie, Manhattan Transfer - Chanson D'Amore, Brotherhood of Man - Angelo, Hot Chocolate - So You Win Again, Elvis Presley - Way Down, Donna Summer - I Feel Love, Abba - Knowing Me Knowing You, David Soul - Silver Lady, Leo Sayer - When I Need You, Julie Covington -Don't Cry for Me Argentina, David Soul - Don't Give Up On Us.