Light Programme Comedy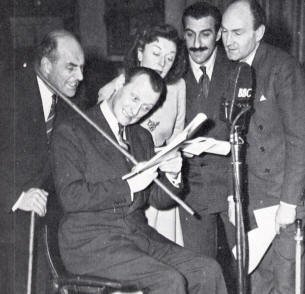 Much_Binding_in_the_Marsh (1944-1954) was a farcical comedy starring Kenneth Horne and Richard Murdoch originally based at an RAF station. In peacetime the crew moved to a social club and were last heard publishing a newspaper. The photograph above shows the team (l-r) Kenneth Horne, Richard Murdoch, Maureen Riscoe, Sam Costa and Maurice Denham.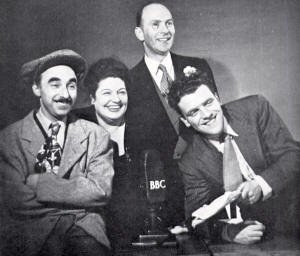 Ignorance Is Bliss (1946-50) was an early Light success. A comedy quiz with idiots played by Michael Moore, Gladys Hay (as a vulgar fat lady) and Harold Behrens as the Cockney ignoramus. Original quizmaster was Canadian and WW2 correspondent Stewart MacPherson. Eamonn Andrews also made his BBC debut as question master seen here on the right with (l-r) Harold Berens, Gladys Hay and Michael More.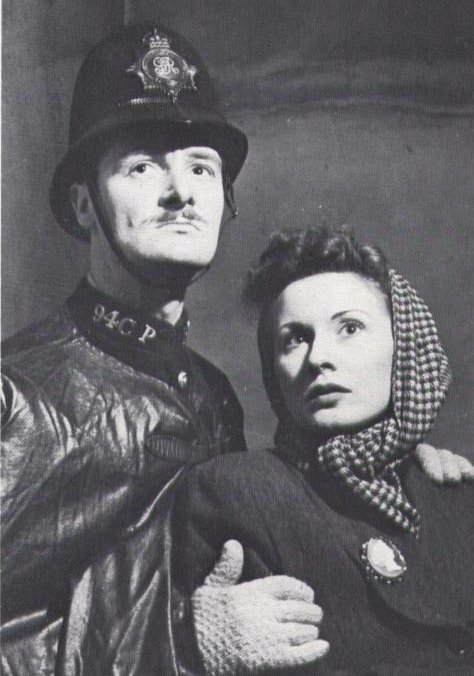 Adventures of PC49 (1947-1959). The title role was played by Brian Rees as Archibald Barclay Willoughby the bumbling PC who somehow managed to solve crimes. A combination of light comedy and sleuthing in a character who also appeared in comic strips and films as spin-offs. He was the first uniformed policeman to become a national hero. The series was created by Australian journalist Alan Stranks. Brian later took to the stage but died relatively young at the age of 49.
Record Roundabout (1948-1977) Bandleader Jack Jackson's shows included recorded comedy clips interspersed with music of the day. He went on to broadcast on Radio 2 from 1971 to 1977. Jackson's lightning cutting between comedy extracts and music has been described as an inspiration to succeeding generations of disc jockeys like Kenny Everett who have used advanced production techniques to 'mix' music, speech and sound.

Archie Andrews & Peter Brough
Educating Archie (1950-1961 & 1966) was a Sunday lunchtime show with weekday repeats featuring ventriloquist Peter Brough and his dummy Archie Andrews. The show was the most popular radio series of 1952, pulling in a phenomenal number of listeners and a fan club of 250,000 members. Peter Brough once said: People always ask 'why a ventriloquist on the radio ' I always used to say 'why not Radio is all about painting pictures for the mind'. Guests included Hattie Jacques, Tony Hancock and Peter Madden. Clip 2
Just Fancy (1951-1962) a hundred episodes of character comedy with Eric Barker, Derek Guyler and Kenneth Conner resident at the Cranbourne Towers Hotel. Unusually for the time - there was no studio audience.
Al Read
The Al Read Show (1950's) his weekly stand-up comedy shows were heard by 35 million listeners during the 1950s and 60s. An ex-sausage maker from Salford, Al drew on his working-class roots for his shows and described his humour as pictures of life .

Jimmy Clitheroe
The Clitheroe Kid (1957-1972) featured the antics of diminutive adult comedian Jimmy Clitheroe in his role as a cheeky schoolboy living with his family.
Beyond Our Ken (1958-1964) later renamed Round the Horne (1965-1968) starred amongst others, Kenneth Horne and Kenneth Williams. This influential Sunday afternoon comedy series featured characters such as Julian and Sandy, Rambling Syd Rumpo, and J. Peasmold Gruntfuttock!
The Navy Lark (1959) All at sea on the HMS Troutbridge were Stephen Murray's Number One, Petty Officer Jon Pertwee and silly-ass Sub-Lieutenant Leslie Phillips, whilst below decks Ronnie Barker worked his passage as (Un)Able Seaman Johnson and Tenniel Evans was making mischief as Able Seaman Goldstein.
Hancock's Half Hour (1954-1959) followed the comedic goings on at 23 Railway Cuttings, East Cheam. Down-at-heel comedian Antony Aloysius St John, Hancock was pompous, petty, argumentative, and loved by a nation. He was supported by the rogue Sid James, his secretary Miss Pugh, played by Hattie Jacques, and the almost as well known snide, Kenneth Williams (stop messing about). On Thursday and Sunday evenings Hancock was heard getting into difficulties and turning to Sid for help. However he would inevitably find himself in deeper trouble as a result.

Workers Playtime (1957-1964) was a live morale-boosting music, comedy and variety show. The show was broadcast weekday lunchtimes three times a week from different factory canteens and ran for 23 years. Originally broadcast on the Home Service in 1941, it transferred to the Light in 1957. The producer was Bill Gates who would finish each programme by wishing "good luck to all workers!."
And don't forget....
Meet the Huggets, The Glums (1950's) with Jimmy Edwards as the beer-swilling head of the Glum household, Dick Bentley as Ron and June Whitfield as Eth. Take it From Here, Does The Team Think , I'm Sorry I'll Read That Again, Ray's a Laugh,
The Goon Show, Stand Easy with Charlie Chester and Waterlogged Spa starring Eric Barker which were spin-offs from the wartime Merry-Go-Round show.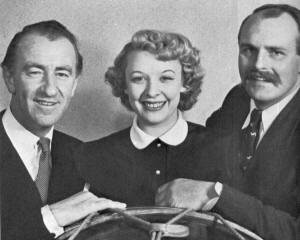 Take it From Here starred
Dick Bentley, Joy Nichols and Jimmy Edwards.
Links to other Light Programme shows heard can be found below.