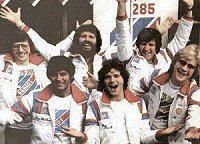 Roadshow DJ.'s 1981. Tour jackets were designed and made by Rhino, Manchester.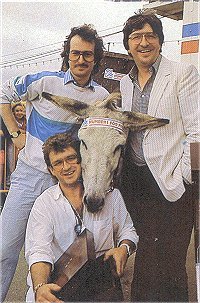 Steve Wright, Simon Bates and Smiley Miley with Roadshow Donkey, 1985.
"GO WHERE THE
HAPPY PEOPLE GO........"
The Roadshow continued its grand tour of UK resorts throughout the following two decades with new games, Word Bingo, Gaylord the Gorilla', 'record race' and 'Boiling Oil'. The recipe remained the same, great pop music and live acts coupled with light-hearted entertainment both on stage (think ferrets, hair dye, geese, smoke bombs.....) and with the audience. By 1988 over 10 million people had visited the show, and it was earning more than 1000 per year for BBC enterprises. The show travelled more than 2,000 miles during the nine week season. The same year 45 seaside venues were visited, from Londonderry to Great Yarmouth, and from Inverness to St. Ives.
The largest ever roadshow audience was 100,000 at Birmingham's Sutton Park on Sunday 30th August 1992 (Party in the Park) celebrating the 25th birthday of Radio 1 with Live acts including Del Amitri, Aswad, the Farm and Status Quo.
The Radio 1 Roadshow supported the 'weeks out' events to Wales, Scotland and North of England as well as annual events such as the Teddy Bear's Picnic.